B-Vent Conversion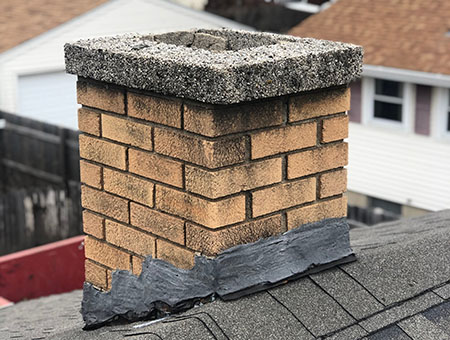 When you begin to notice deterioration of your masonry appliance chimney or condensation from your appliances, it is a good time to have a CSIA Certified chimney technician out to inspect your appliance flue system and chimney. If your appliance chimney is found to be in poor condition, we will recommend you B-Vent your gas appliances. Rebuilding a masonry chimney that is venting gas appliances tends to be a higher maintenance decision, as well as the least cost-effective solution. You may notice that, in new construction homes, masonry appliance chimneys are a thing of the past! Appliances are now either direct vented through the side of the home, or vented via b-vent to extend out of the roofline to code.  
What To Expect: 
When we opt to b-vent an appliance, we will remove the chimney down below the roofline and dispose of the materials. All materials are removed from the job site at the end of the project, and disposed of. If your gas appliance flue system is not currently lined with stainless steel liner, we will run a stainless steel liner of appropriate size from the roofline down to the appliance connection. Your stainless steel liner is sized to meet the requirements of the BTU's of your appliance to properly and efficiently draft your gas appliances. We will then replace the galvanized connections at the appliance with new and make all connections to the appliance(s) as necessary.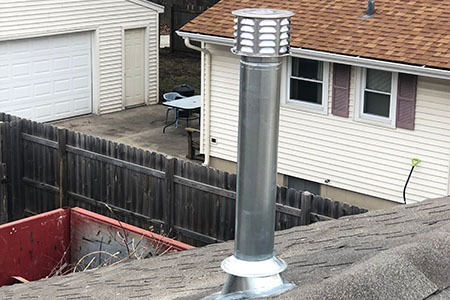 At the roofline, we will connect the stainless steel liner to a galvanized b-vent pipe that will extend out of the roof to code. Our technicians will then apply flashing, a new storm collar, ice and water shield, patch the roof as needed with the best possible shingle match, and install a chimney cap at the top of the b-vent pipe. 
Scheduling Your B-Vent: 
Once an estimate is agreed upon, we will request a signed copy of the proposal returned to the office and a deposit will be taken. Once received, we will be able to schedule your b-vent project for completion. Generally, these projects take one full day to complete and, given the nature of the project, we move to schedule your project at our soonest availability. In the chance the weather is not conducive to remove the chimney the day of scheduled service, we will often elect to reline the appliance flue system and return to remove the chimney and install the b-vent at a later date.