New Construction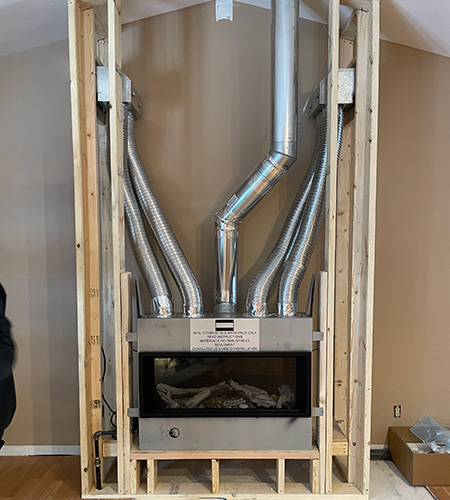 When building a new home, adding an addition to an existing home, or just wanting to add a fireplace to your living space, contractors and homeowners may elect to bring in the assistance of a CSIA Certified Fireplace & Chimney expert to aid in the planning and installation process. From assessing blue prints to delving into what you are looking to get out of your fireplace system, our chimney technicians are happy to help! 
What To Expect: 
Starting from a clean slate allows us and the homeowner the flexibility to really establish the desired outcome and what we need to do to bring your vision to life. Whether you are looking for a more modern finish with a sleek gas insert installation, or a traditional wood-burning fireplace, the options are endless. 
We are happy to work alongside your general contractor, or we can complete most new construction and installation projects on our own. We will provide any other parties involved the information and instruction they need to ensure any installation we complete together meets specific codes and safety standards so you can live confidently in your decision to install a new fireplace. 
Depending on what stage the home is in, whether we are just looking at blueprints or are able to physically visit an existing structure, our technicians will discuss options and provide recommendations based on their extensive experience and give an estimate of cost for your new construction fireplace project. 
The day of installation, our technicians will arrive first thing in the morning to set up and prepare their work area, laying protective materials on the necessary surfaces, and securing any safety or access equipment. Our technicians and crew will begin the project to complete our portion of work as efficiently as possible. We pride ourselves on leaving our work area clean and remove any debris from the work-site for disposal unless an onsite dumpster is quoted/requested. 
Scheduling Your New Construction Fireplace: 
Once an estimate is provided and agreed upon, we will request a signed copy of your proposal to be returned to the office and we will collect a deposit. We will then go over any customizable options for your fireplace or stove and place any orders for materials at that time should we not have the desired components in-stock. Once the information is gathered and we have ETA's for the supply necessary, we will be able to work with all parties involved to schedule your work to be completed as soon as possible!