Gas Inserts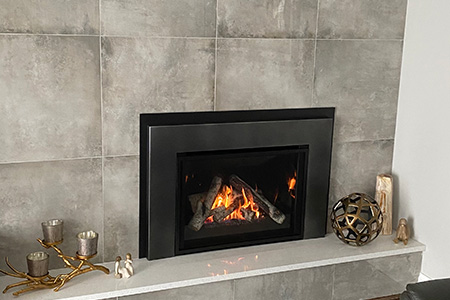 Gas inserts are becoming more and more popular as an alternative to your traditional masonry wood burning fireplace. Gas inserts are designed to be installed within your existing masonry fireplace. Using the masonry chimney to maintain the ventilation system for the new Gas Insert, or venting out the side of the home for direct vent applications. Providing radiant heat into the home when in use, they provide a wonderful alternative to your traditional wood burning fireplace. 
They are controlled via a remote system, so no need to fiddle with manual lighting. We install several brands of gas inserts providing the homeowner an opportunity to design how they would like their fireplace to look aesthetically. Some require electricity to operate, as well as those that operate off of a battery system, providing the ability to use them even when there is a loss of power to the home. 
What To Expect From Estimate To Installation Day
Whether you are looking for a more traditional fireplace appearance or you want a modern twist, the options are endless and customizable to fit your preferences. The size of your firebox will determine which units we are able to recommend for your fireplace. Once our technician visits your home for a free estimate, they will be able to determine and the best options and provide a pricing estimate. 
Once agreed upon, we will provide you with the resources to customize your gas insert. We will walk you through any questions and concerns you may have prior to ordering the options you've selected. We will then take a deposit and order your gas insert from the manufacturer or pull from our current stock. Once we are provided with an estimated delivery date, we will let you know the unit is headed our way and we will schedule your service.
Our technicians will arrive first thing in the morning and begin to set up their work area. We lay protective material as needed for floors, walk ways, and areas that may be affected by the work being completed. If facing material and/or current units need to be eliminated, we will remove for disposal. Any materials removed will be taken with us to be disposed of, unless a dumpster is recommended for a larger volume of materials, which does not occur frequently. 
Once the work area is cleared and prepped, we will begin the process of installing your new gas insert. We will ensure there are no visible defects within the installation area and clearances to combustibles are met. Your gas insert will be installed, the ventilation pipe will be connected to the insert and run through the interior of the flue system, to vent out of the chimney, roofline, or to the exterior of the home to code. 
If your gas insert is not venting out of a chimney or through the side of the home, but through a pipe extending out of the roofline, we will install flashing as well as patching the affected area, applying ice and water shield, and re-shingling with the best possible shingle match. 
Average installations require a full day from start to finish, making the process as painless as possible! 
Maintenance 
It is recommended by the National Fire Protection Association that chimneys and fireplaces are inspected annually and cleaned as necessary. 
With solely gas fireplaces/inserts, annual cleaning is generally not necessary as you do not experience the creosote build up you have with a wood burning fireplace. However, it is recommended to maintain annual safety inspections of your new gas insert.