Wood Stoves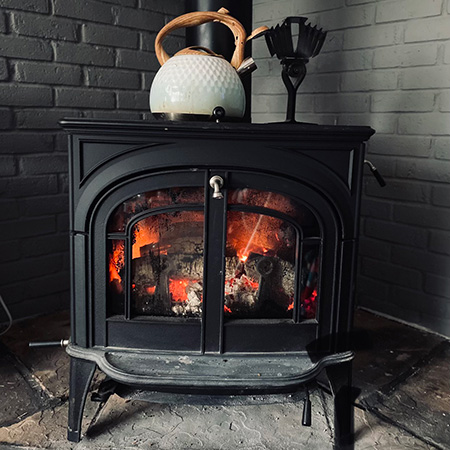 For a long time, wood stoves have been one of the most trusted sources of heat for many homeowners in our area. Big steps have been taken over the last 30 years to produce wood stoves that are highly efficient while still providing the heat desired. Open face fireplaces have been shown to lose approximately 80% of the heat it generates, while wood stoves have shown to be up to 80% energy efficient, producing more heat for the home and a cheaper alternative to home heating systems. 
Wood stoves tend to be utilized frequently in the colder months, making it very important you maintain regular cleaning and inspection schedules. Depending on your burning habits, your Pratt's technician will help to provide a recommendation on how often your system should be cleaned.
Wood stoves that are used as a main source of heat may need to be cleaned several times within a burn season. 
I Have A Wood Stove Already And I Would Like To Have It Installed - Can You Help?
Potentially! We are going to want to set up a time to meet with you to take a look at the stove that you currently have and the area you are hoping to have it installed. Our technicians will determine if your stove is in operable condition and that the location is appropriate. They will often recommend steps to ready the space to meet the requirements for the stove and an estimate for installation. 
Smoke Is Filling My Home When I Have A Fire In My Stove
It is important to have a technician out to assess the cause of your back draft. If a stove has been functioning properly up until this point, it may be a sign of a blockage or significant creosote build up within the system. It is important to have it checked to avoid a chimney fire and the risk that a fire accompanies. 
The wood you burn will also affect your burn. It is important to burn dry, aged wood that is kept out of the elements. The firewood that you burn should carry a moisture content of 15% - 25%. When going beyond this recommendation, the fires you have will produce a cooler fire, creating a larger amount of smoke and an excess of creosote. 
Have you made any structural changes to your home? New windows, doors, roof, etc. can all change the pressure flow in your home, affecting the draft or draw of your wood stove. 
I Would Like To Install A New Stove In My Home, But Don't Know Where To Start
Not a problem at all! Our technician will be happy to come out for a free consultation. We will discuss your options and provide recommendations based on the size of the home, aesthetic preferences, where you are looking to have your stove installed, and what would go into making your vision come to life. We are proud to provide wood stove options that are Made In The USA and are leaders in efficiency and durability. 
My Stove Needs A Tune Up & Repair 
We are happy to come out to provide you with a free estimate for any maintenance or repair your stove may need. From installation of gaskets, to stove pipe replacement, we are happy to help! In your annual cleaning and inspection, our technicians will document any recommendations that they have for repair or concerns present with your system as well, making sure your system is running as efficiently as possible. 
What Is The EPA Tax Credit? 
If you are looking to install new or upgrade your current wood stove, the new Biomass Tax Credit adds another motivation to do so! 
January 1, 2023 through December 31, 2032, taxpayers who install qualifying wood stoves can receive a 30% tax credit up to $2,000 annually, based on the full cost (purchase and installation) of your wood stove.
Not all of the stoves we install qualify for this credit at this time, however we are happy to provide recommendations for those that fall within this spectrum!