Wood Inserts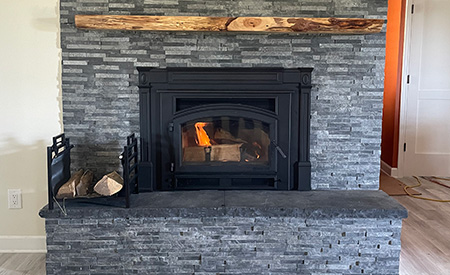 If you are looking for a wood burning fireplace that is equally efficient and powerful, a Wood Burning Insert is going to be a fantastic option!  Wood burning inserts provide heat within the home while limiting the amount of wood necessary to do so. We are able to fit options into most pre-existing masonry fireplaces or vent without a masonry chimney and into a flue pipe that extends out of the roof to code. It allows us to install within your current fireplace, or create a custom interior chase where you may not have one. 
What To Expect From Estimate To Installation Day
We will schedule a time for one of our Nationally Certified Chimney Technicians to visit your home and provide a free estimate. They will be happy to walk through options available for your space and any costs associated. 
Once a price is agreed upon, our technician will help you with choosing any available customizable options for your wood burning insert. We will walk you through any questions and concerns you may have prior to ordering the options you've selected. Once we are provided with an estimated delivery date, we will let you know your unit is headed our way and schedule your service. 
Our technicians will arrive first thing in the morning and begin to set up their work area. We lay protective material as needed for floors, walk ways, and areas that may be affected by the work being completed. If facing material and/or current units need to be removed, we will remove for disposal. Any materials removed will be taken with us to be disposed of, unless a dumpster is recommended for a larger volume of materials, which does not occur frequently. 
Once the work area is cleared and prepped, we will begin the process of installing your new wood burning insert. We will ensure that there are no visible defects within the installation area and clearances to combustibles are met. Your wood insert will be installed and the ventilation pipe will be connected to the insert and run through the interior of the flue system, to vent out of the chimney or roofline to code. 
If the wood insert is not venting out of a chimney, but through a pipe extending out of the roofline, we will install flashing as well as patching the affected area applying ice and water shield and re-shingling with the best possible shingle match. Both applications include installation of a termination cover (chimney cap) at the top of the flue system. 
Maintenance 
It is recommended by the National Fire Protection Association that chimneys and fireplaces are inspected annually and cleaned as needed.
Cleaning schedules may vary depending on the frequency of burn and type of wood used in the system. We see systems that require cleaning bi-annually and other systems that require cleaning multiple times a year.
| | |
| --- | --- |
| Before | After |