Fireplace Refacing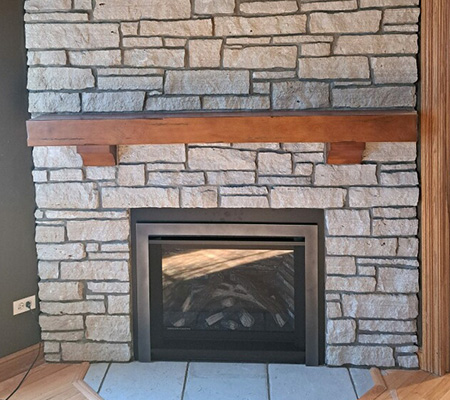 Fireplace Refacing allows us to completely transform the look of your space. Our team of technicians and skilled masons work with you to establish the look and feel that you are looking for at the exterior of your fireplace. We work together and provide recommendations allowing you to see, touch, and sample different materials so you are confident in your decision. Whether you are looking to do a modest surround, or a floor to ceiling replacement/installation, we are able to help bring your ideas to life from planning to execution.
Sometimes, when we are looking to remove and replace a fireplace insert, we need to remove the facing to provide proper access to remove the current materials and install new. This provides the homeowner a chance to customize every aspect of their fireplace or, to keep a similar aesthetic, we can help procure as close of a material match as possible.  
What to Expect:
Our technicians will arrive at an agreed upon time and begin to set up their work area. We lay protective material as needed for floors, walk ways, and areas that may be affected by the work being completed. Our technicians will remove the current facing material/debris and dispose of them properly.
We will then apply the necessary backing materials to maintain non-combustible clearance to the fireplace. With the face of the fireplace removed, we will generally remove the existing mantle with the option to reinstall (if applicable) or replace with a new mantle should the customer so desire. Once the face area is prepped, we will begin to rebuild the face of the fireplace utilizing the chosen and agreed upon material. Often, in the refacing process, homeowners will elect to have their hearth pad replaced as well to better suit their updated fireplace - our mason is happy to install new tile or stone as needed. 
Scheduling Your Refacing Project: 
Whether being completed with a new installation or on its own, the scheduling process is similar. Once the proposed work is agreed upon, we will request a signed copy of the proposal returned to the office and will collect a deposit. We will work with you and our masons to coordinate the installation and the refacing project to be as seamless as possible. While our masons do go in the order of signed proposals for all of their masonry work (interior and exterior) interior refacing work is able to be completed during unfavorable weather conditions allowing us to get to interior projects as quickly as possible.