Chimney Rebuild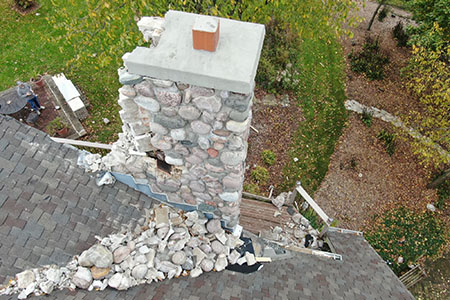 Pratt's is blessed with both skilled technicians as well as masonry crews who are able to assist when masonry chimney repairs arise. From routine maintenance, such as tuckpointing, to larger issues caused by weather or high levels of deterioration, we are able to provide a solution that will last for years to come. 
Your chimney, whether it vents your fireplace, appliances, or a combination of the two, faces both internal and external conditions that lead to deterioration of the masonry structure. You may experience some of the brick on your chimney spalling, deterioration or loss of mortar joints, and/or cracking of the concrete crown. Most homeowners do not realize their chimneys are in need of rebuild until their exterior chimney deterioration begins to cause interior damage from allowing water to move into the home. 
What To Expect: 
When your chimney is beyond the point where tuckpointing will remedy the deterioration to the chimney or a structural issue is evident, our technicians and masons may recommend removing the chimney down to the roofline, flashing, or stable level. They will then proceed in rebuilding the chimney back up either to the original height or to code, using the best possible material match available. When the same materials are no longer available, we will provide the closest possible match, to be approved prior to the start of work. Forms are placed at the top of the new masonry chimney, and a concrete crown is poured. Our concrete crowns overhang the masonry chimney, providing an added level of protection for the masonry structure below. Upon completion, a waterproofing agent called ChimneySaver will be applied to the masonry to help protect the brick/stone. 
Masonry Rebuild Scheduling: 
Chimney rebuilds, and exterior masonry work as a whole, are highly weather dependent. It is not something that can be completed during bouts of rainy weather, nor when overnight/daytime temperatures fall below freezing. Unfortunately, in our area, this means we generally wrap up masonry work late in the fall, and pick back up in spring when the weather breaks. 
Once your masonry rebuild estimate is agreed upon, we will place you on our list for completion. We provide service in the order of signed proposals/deposit, pending material match approval. Once we approach your work order, a tentative start date will be provided. Our masons will set their safety equipment, scaffolding and any other materials, provide a material match for approval and, once set, we will begin the work.