Chimney Maintenance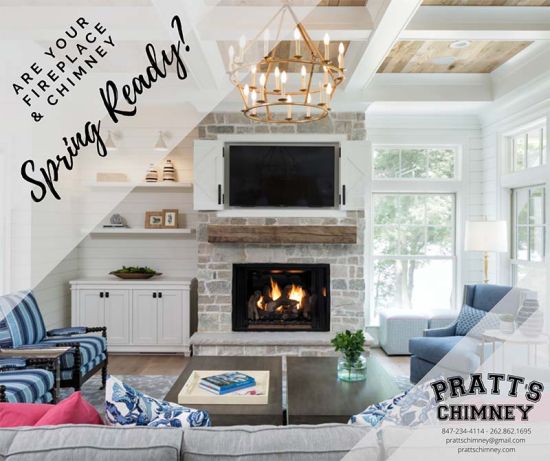 Spring is just around the corner, and with the warmer weather comes some possible unforeseen fireplace and chimney maintenance needs! From critters to leaks, it's important to have the upper hand to avoid larger problems down the road.
Often, homeowners don't even begin to think about having their fireplace and chimney cleaned or inspected until the colder weather decides to show face in the fall. However, there are several reasons that spring is the better choice for a chimney/fireplace inspection and/or cleaning!
During the fall, our wait times for a chimney cleaning and inspection can book out up to two months in advance. By scheduling in the spring, after you are done using your fireplace for the season, you will be ahead of the game when the cold weather hits – without excessive wait times!
Inspections take a look at the entire operating system, to make sure there are no visible defects and to ensure safety standards are met. This permits us to make necessary adjustments or repairs if needed prior to burn season, allowing our customers to enjoy their fireplace the entire season without a hitch.
Spring brings along with it little critters that love nothing more than to build their nests and have their babies in your fireplace chimney. As cute as baby birds, bats, raccoons, and squirrels are, most of us would prefer if they did not take up residence in our homes. Having your fireplace and chimney inspected will allow us to ensure that a proper cap or top-sealing damper is installed at the top of the chimney keeping animals and debris out!
April showers may bring May flowers, but they also bring leaks to unsuspecting homeowners. It is important to have the exterior chimney inspected to make sure that everything is sealed tightly, and there are no masonry, chimney flashing, chimney cap, or chase top issues present.
What's that smell?! If you have a wood burning fireplace, it produces a substance called creosote. This tar-like substance sticks to the walls of the fireplace flue, This is what is cleaned off the flue when we perform a chimney cleaning. When the rain and humidity, that come along with the warmer weather, reaches the creosote, it can cause an unpleasant odor in the home. Cleaning of the firebox and flue is the first step to ridding your home of this unpleasant odor.
Contact us for your free quote today! We would love to have one of our Certified and Fully Insured Chimney Technicians get you all squared away this spring!